What are porcelain veneers?
Today a patient with stained teeth, ugly teeth, gaps between teeth, chipped teeth, dark teeth etc, that could be causing embarrassment or distress to the individual has new hope. They can be cosmetically restored to be more appealing with porcelain veneers.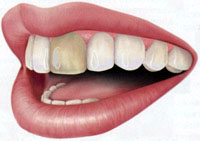 Porcelain veneers are ultra-thin shells of ceramic material, which are bonded or glued to the front of the natural teeth. This procedure requires little or no anesthesia, and can be the ideal choice for improving the appearance of the front teeth. They are highly resistant to permanent staining from coffee, tea, or even cigarette smoking, the wafer-thin porcelain veneers can achieve a tenacious bond to the tooth, resulting in an esthetically pleasing naturalness that is unsurpassed by other restorative options.
Why get a porcelain veneer?
Porcelain veneers are superb alternative to crowns in many situations. They provide a much more conservative approach to changing a tooth's color, size, or shape. Porcelain veneers can mask unattractive defects, such as teeth stained by tetracycline, by an injury, or as a result of a root-canal procedure, and are ideal for masking discolored fillings in front teeth. Spaces between front teeth of patients or teeth that are chipped or worn may consider porcelain veneers.
Generally, veneers will last for many years, and the technique has shown remarkable longevity when properly performed.
Patients need three appointments for the entire procedure: diagnosis and treatment planning, preparation, and bonding. Sometimes an appointment may be made before the final bonding for a try-in to see if the color, shape and coverage are acceptable to both patient and doctor
Diagnosis and treatment planning It's critical that you rake an active role in the smile design.
The preparation of teeth for veneers will take from one to two hours. To prepare the teeth for the porcelain veneers, the teeth are lightly buffed to allow for the small-added thickness of the veneer. A certain amount of tooth material in the labial surface is shaved-off with dental burs. A local anesthetic may be applied. At this appointment, an impression is taken of the teeth, which is sent to the laboratory for the fabrication of the veneers. This can take about four to five days.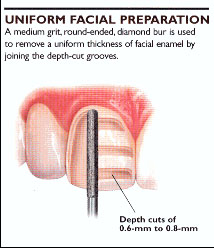 Because the teeth are buffed or reduced, they will look a little different until the next appointment when the veneers will be bonded into place. If the teeth are too unsightly for you, a temporary veneer can be placed, at an additional cost.
Bonding of veneers: This appointment will take about one to two hours. First, the dentist places the veneers with water or glycerin on the teeth to check their fit and get a sense of the shade or color. While the veneers are resting on your teeth, view the esthetic results, and pay particular attention to the color. At this point, the color of the veneers can still be adjusted with the shade of the cement to be used. The color cannot be altered after veneers are cemented. To apply the veneer, the tooth is cleansed with specific chemicals to achieve a bond. Once a special cement is sandwiched between the veneer and tooth, a visible light beam initiates the release of a catalyst to harden the cement.

How about maintenance?
You will need sometime, about a week, to undergo a period of adjustment as you get used to your new teeth that have been changed in size and shape. Brush and floss daily. After one or two weeks, you'll return for a follow-up appointment.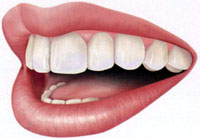 Porcelain veneers are reasonable facsimiles of natural teeth, nor perfect replacements. There maybe slight variations in the color of porcelain veneers upon close inspection, as this occurs even in natural teeth. Nevertheless, this procedure can greatly enhance your smile, and can heighten inner satisfaction and self-esteem.



Before &After
A crown and bridge refers to the restoration of natural teeth that have been damaged, decayed or lost. A crown may be constructed to restore an individual damaged tooth back to it's original form and function, while a bridge may be utilized to replace one or more missing teeth. Crowns are necessary when a tooth is generally broken down and fillings won't solve the problem.

There are 3 types of crowns and they all can be divided into three categories based upon the materials used. Crowns can be all metal, all ceramic/porcelain, or porcelain fused to metal. If a tooth is cracked a crown holds the tooth together to seal the cracks so the damage doesn't get worse. These restorations are cemented onto the teeth and are referred to as "fixed" dentures.

.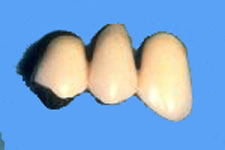 Crown & Bridge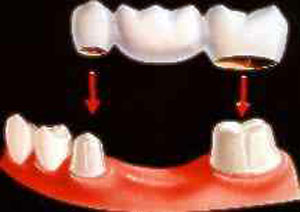 Porcelain crowns fused to metal


Will it look natural?
Yes. The dentist's main goal is to create crowns that look like natural teeth. To achieve a certain look, a number of factors are considered, such as the color, bite, shape, and length of your natural teeth. Any one of these factors alone can affect your appearance. If you have a certain cosmetic look in mind for your crown, discuss it with your dentist at your initial visit. A well-planned restoration should be cosmetically pleasing and strong enough to support the forces of chewing. Most patients are pleased with the results and usually believe it was worth the cost of investment.